If you're new to active skincare and have no idea where to start, the Aspect Dr Starter Kit is perfect for you! Containing a results-driven collection of hero products that smooth, protect, brighten and nourish, this kit is the ideal way to introduce your skin to the wonders of actives and achieve plump, youthful-looking skin at home.
Don't forget, ENJOY FREE SHIPPING ON ALL ONLINE ORDERS UNTIL THE END OF LOCKDOWN!
What's in the Aspect Dr Skincare Starter Kit
We realise you're stuck at home, but Dr Google, your bestie with amazing skin or an online beauty forum are not the places to find skincare suitable for YOUR skin! If you're not a skincare professional, leave diagnosing your skin concern to the experts.
Aspect Dr Deep Clean 30ml
Assists with hydration and micro-exfoliation, improving skin tone and texture.
Soothes and comforts the skin, whilst fighting free radical damage to combat the visible signs of ageing.
Contains Lanablue (an algae), known for its Retinol mimicking ability.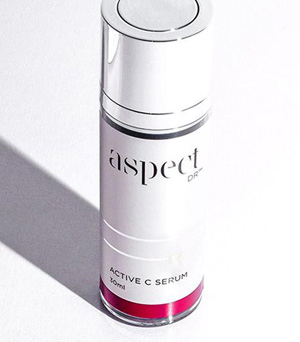 Aspect Dr Active C Serum 15ml
Aspect Dr Active C is the perfect addition to all skin types, especially dry and reactive or sensitive skins.
Dr Aspect Active C also suits skins suffering rosacea and works well with Dr Aspect Redless. Safe for pregnancy and breastfeeding mums.
Helps illuminate and protect skin from free radical damage.
Provides potent antioxidant protection to fight the visible signs of ageing.
Maximises hydration levels and elasticity for a plump, more youthful appearance.
Soothes and comforts the skin.
Aspect Dr Exfol A Plus 15ml
Dr Aspect Exfol A Plus Serum is a concentrated Vitamin A and exfoliating treatment for the treatment of acne, congestion, ageing, dull, thickened or pigmented skins.
Not recommended for reactive skins or women that are pregnant or breastfeeding.
Retinol helps to minimise all signs of ageing, such as fine lines & wrinkles, sagging, loss of firmness and pigmentation. It also works to address problem skin concerns such as blemishes, congestion and regular breakouts.
Hydrates and smooths the skin's surface.
Aspect Dr Resveratrol Moisturiser 15g
Aspect Dr Resveratrol Moisturising Cream is one of the most hydrating creams you will find on the market. It soothes the skin, while softening and balancing. This moisturiser is magnificently creamy, but doesn't feel greasy.
A potent bioavailable active.
Contains superior antioxidant properties that help to combat free radical damage and the visible signs of ageing.
A rejuvenating peptide blend that helps to firm the surface of the skin.
Antioxidant-rich complex of Vitamin E.
What are the benefits?
Opportunity to road test professional Aspect Dr hero products before you commit to the full-size products.
Smaller sizes are great for fitting into your beauty case
Suitable for all skin types
Powerful anti-ageing formulas
Antioxidant protection
Smoothing and exfoliating
Hydrating and nourishing
---
We're here for your skin
Having an iso skin crisis and need some professional advice? Book a virtual skin consultation with one of our expert clinicians, who can talk you through any concerns you might have and prescribe effective solutions, whilst you're at home. ⁠
To book, you can book online or email [email protected] with your preferred time and day and we will send you a zoom link to discuss your needs.⁠
PLEASE NOTE: As part of the current 'Stay at Home' order, the clinic must remain closed. In the meantime, you can still purchase your homecare in our online store and we will have it sent out to you on the same day (if you order before 4pm).